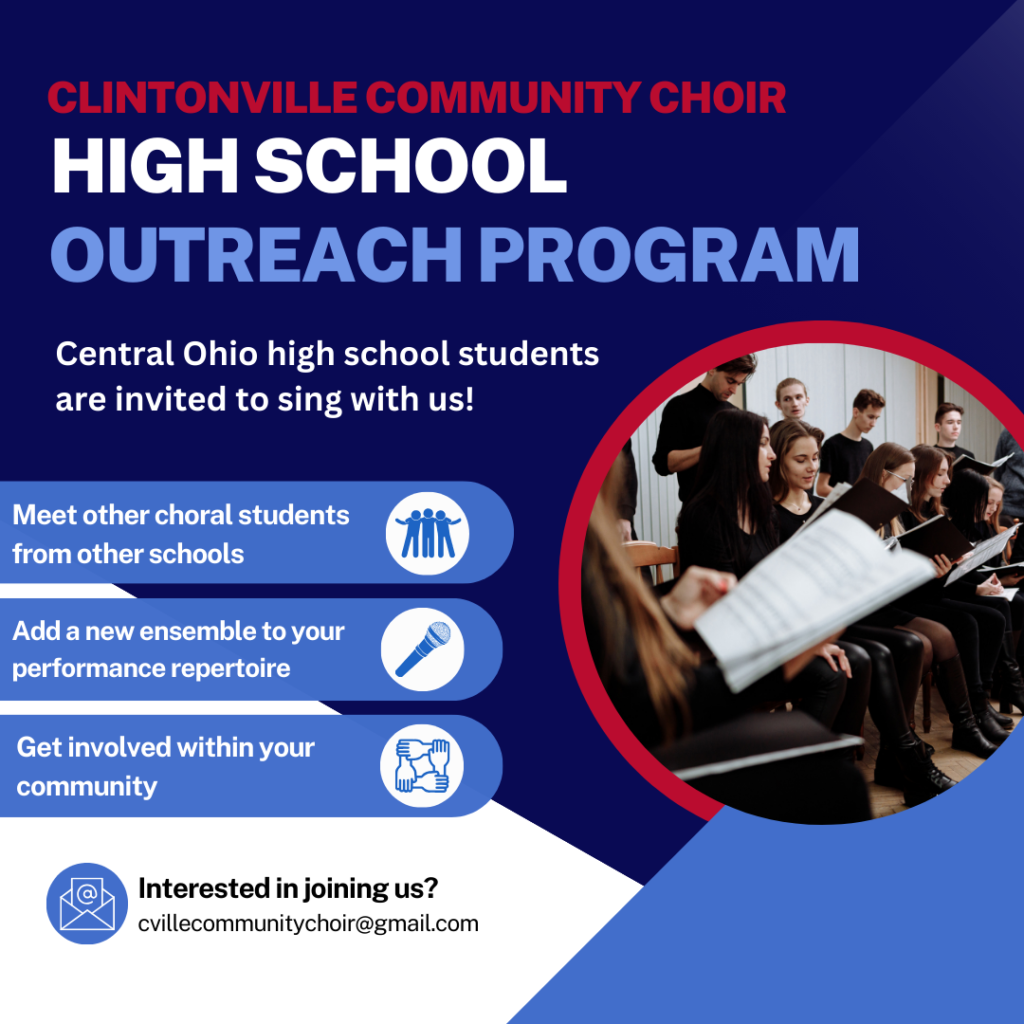 Our Next Season: Holiday 2023
Our annual Holiday concert is currently scheduled for Sunday December 10, at North Broadway United Methodist Church, 48 E. N. Broadway St.  Rehearsals begin Monday September 25 and will continue on Monday evenings at 7:00 pm at Clinton Heights Lutheran Church, 15 Clinton Heights Ave. We'd love to have you join us!
Our Most Recent Concert: July 23, 2023 at the Park of Roses
We enjoyed an amazing performance at the Park of Roses as part of the Civitan Summer Concert Series. Highlights included a 5-part jazz Latin mass with jazz trio accompaniment, two a cappella Beatles songs with solos, and four selections from The Greatest Showman also with solos.
Previous Concert: May 7, 2023 at Calvary Bible Church
We entertained an audience of over 200 at our I Will Sing With The Spirit concert. Selections included a couple of Beatles tunes, several standards including "Somewhere Over the Rainbow" played solo by our extraordinary accompanist Shine Robison, some Handel, even a jazz-flavored Latin mass featuring bass, drum and piano accompaniment.
Previous Concert: December 4, 2022 at Calvary Bible Church
The Calvary Bible Church pews were filled for our Songs of the Season concert, our first with Artistic Director Larry Griffin! We sang spirituals, carols, medleys, a Ukrainian folk song, and more. The Knisely quartet featuring our pianist Shine Robison performed a set of instrumentals. We wrapped up the afternoon with a sing-along of the Hallelujah Chorus. Audio recordings are available on our Hear the Choir page.
You can download the concert program (PDF) here
Previous Concert: July 24, 2022 at the Park of Roses
We were thrilled to be part of the revived Summer Concert Series presented by the Civitan Club of North Columbus! We sang a variety of madrigals, spirituals, Broadway showtunes and more. The new Clintonville Community Children's Choir also performed a trio of tunes!
Previous Concert: May 1, 2022 at Clinton Heights Lutheran Church
We had a delightful spring concert featuring songs by Irving Berlin, Paul Simon and others. Our audience was also treated to three instrumental pieces featuring our accompanist Shine Robison plus violinist Daniel Wu, cellist Isaiah Wu, and bassist Grace Cooper.
Previous Concert:  December 5, 2021 at Clinton Heights Lutheran Church
In December we presented our first live in-person concert in two years!  It is available for your viewing and listening pleasure on YouTube: https://youtu.be/cHHp2OZfAjE
You can download the concert program (PDF) here
Love to Sing?  You Can Join Us Any Time!
The Clintonville Community Choir is open to any central Ohio resident who wishes to sing in a choir. New members are always welcome. No audition is necessary — just a desire to sing with a group and have fun!  See About the Choir for more information.
To join the choir, or for more information, contact our Membership Manager using this form.
Videos of our virtual Spring and Summer 2021 seasons!
Our Summer 2021 virtual season video, produced by director Xin Su, is now available!  It features songs in three languages: English, Portuguese (Brazil), and Filipino. These colorful summer songs are "Oh, the Summer", "Estrela, E Lua Nova" ("Star, It's the New Moon"), and "Kaming Magmamani" ("We, Peanut Vendors").  Click here to enjoy!
Xin Su also produced our virtual Spring 2021 season video.  It combines three songs of empowerment and hope: "A Path to Each Other", "Blackbird", and "The Storm is Passing Over."  Check it out on YouTube!
As a trial run, a number of choir members sang in a similar video in January 2021.  Click on the title to enjoy our performance of Morten Lauridsen's "Sure on This Shining Night"
In December 2019 we sang Handel's Messiah at Carnegie Hall in NYC!
The Clintonville Community choir was invited to join select other choirs from across the country to perform Handel's Messiah on December 1, 2019 at Carnegie Hall!  We performed with a professional orchestra, soloists, and conductor in Messiah….Refreshed! produced by DCINY.  Click here for more information about the concert.  Click here for photos from the concert.
Our Mission
The Mission of the Clintonville Community Choir is:
To enhance the musical environment in Clintonville
To provide an opportunity for musical expression and growth among the members
To provide an opportunity for contact among musicians of varying levels of proficiency
More Information
The C'Ville Songsters is a small, auditioned, a cappella group of choir members who sing at Choir concerts and represent the Choir year-round, including times when the Choir isn't rehearsing. See About the Songsters for more information.  Note: the Songsters are currently on hiatus due to the pandemic.