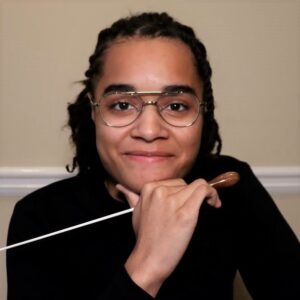 Ariel Antoinette Alvarado is Interim Artistic Director and conductor of the Clintonville Community Choir for the Spring 2022 season. She has known since the age of 12 that she wanted to pursue a life and career in choral music. Since then, she has been honing her skills in many choirs, masterclasses and in her undergraduate and graduate studies.
Ariel is pursuing a Master of Music in Choral Conducting at The Ohio State University. She has a Bachelor of Arts degree in Music from Spelman College in Atlanta. Her experience ranges from being the student conductor of two ensembles during her undergraduate years at Spelman to being a guest conductor for several churches in the Atlanta area and for the Fayette County School System.
Ariel's life goal is to make the world a more beautiful place. She is excited and honored to join the Clintonville Community Choir.