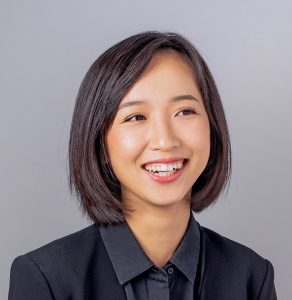 Xin Su became our Artistic Director and conductor in January 2020.  Xin enjoys sharing her passion, energy, and love with musicians. She has been extremely obsessed with music for ensembles of varied forces – fascinated by the virtuosity in chamber music, the intimate interaction between human voices and to the breadth and depth could be reached in symphonic works – for all the capabilities of the artistic expression and profound meaning that music could possibly possess.
As a conductor, Xin is also the current Music Director of the a cappella group Ohio Afternoon. In the past, she has conducted the Chinese Folk Music Orchestra at OSU in the 2018 season. During her studies of Master of Music, Xin has served as a Graduate Teaching Assistant at The Ohio State University. Before coming to the United States, she was the assistant conductor in University Choir at Beijing Normal University in China.
Xin's mentors of conducting are Robert Bode, Kristina MacMullen and Robert Ward. Currently, Xin is pursuing her doctorate degree in conducting at The Ohio State University. Xin also holds a Master of Music degree in Conducting from The Ohio State University, a Master of Arts in Music and Dance – Musicology and a Bachelor of Science degree in Geography – Rural and Urban Planning & Resource Management from Beijing Normal University.