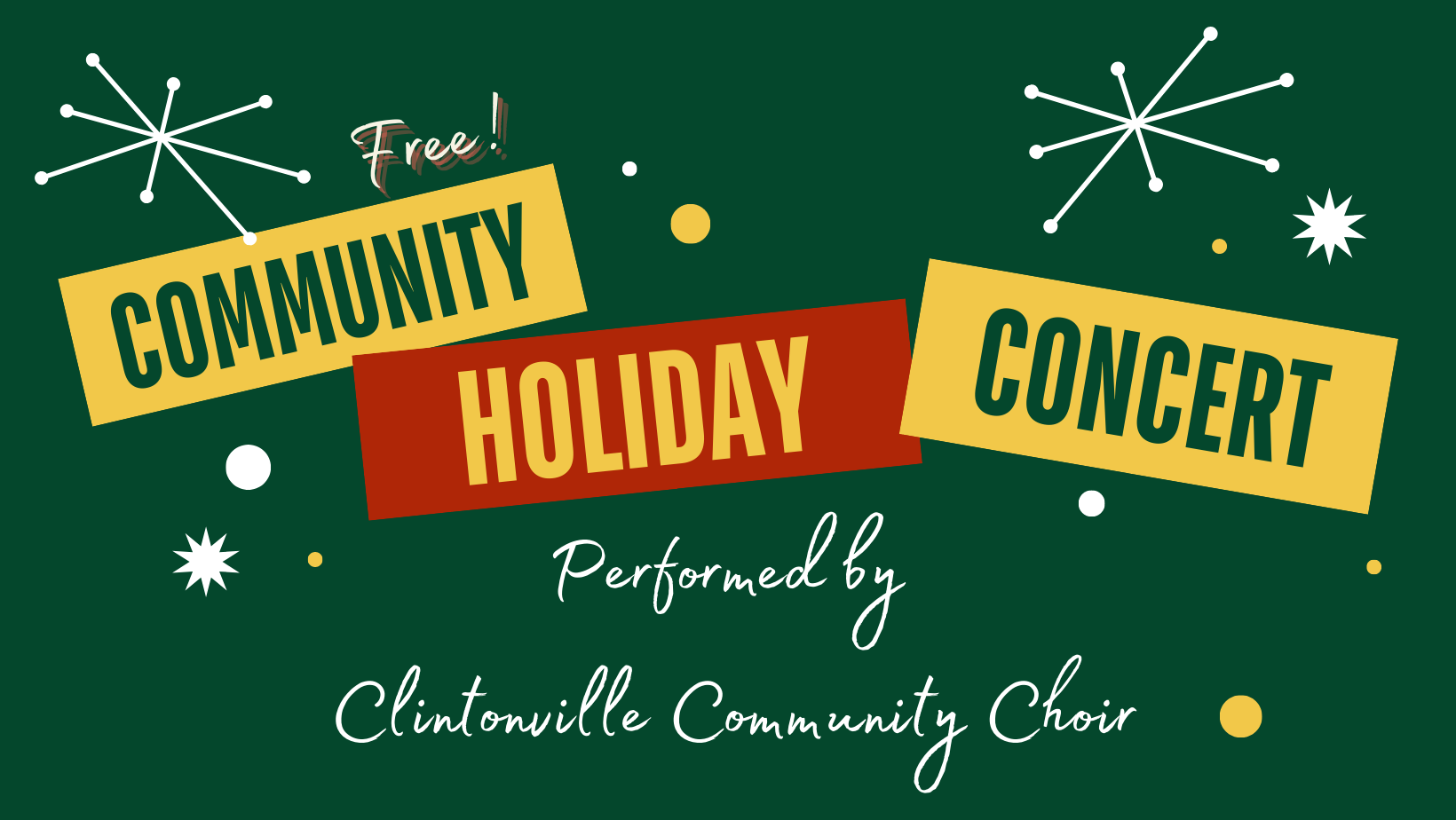 Our Most Recent Concert:  December 5, 2 pm, Clinton Heights Lutheran Church
Our concert was wonderful! It is available for your viewing and listening pleasure on YouTube: https://youtu.be/cHHp2OZfAjE
You can download the concert program (PDF) here
We are so excited to announce our first concert in two years!   We will perform Sunday December 5 at 2 pm, at Clinton Heights Lutheran Church, 15 Clinton Heights Ave, Columbus.
The concert is free, but a donation will be taken during the concert to benefit Columbus Metropolitan Library-Whetstone Branch. Columbus Metropolitan Library shares our vision of creating welcoming learning environments for all members of our community. We are proud to have the Whetstone branch as our neighbor.
Masks are required indoors at all times, regardless of vaccination status. Social distancing by family is encouraged.
Our Current Season: Holiday 2021
We are back in-person for the Holiday 2021 season!  Rehearsals are at Clinton Heights Lutheran Church on Mondays at 7:30 pm.  Those who wish to participate in person will be required to show proof of COVID vaccination at their first rehearsal and also sign a waiver form.  Masking is required throughout rehearsals and social distancing is in effect.  Rehearsals are also video-recorded and made available weekly.  Our concert will be Sunday December 5 at 2 pm, at Clinton Heights Lutheran Church, 15 Clinton Heights Ave.  We are so excited to be singing together again!
Love to Sing?  You Can Join Us Any Time!
The Clintonville Community Choir is open to any central Ohio resident who wishes to sing in a choir. New members are always welcome. No audition is necessary — just a desire to sing with a group and have fun!  See About the Choir for more information.
To join the choir, or for more information, contact our Membership Manager using this form.
Videos of our virtual Spring and Summer 2021 seasons!
Our Summer 2021 virtual season video, produced by director Xin SU, is now available!  It features songs in three languages: English, Portuguese (Brazil), and Filipino. These colorful summer songs are "Oh, the Summer", "Estrela, E Lua Nova" ("Star, It's the New Moon"), and "Kaming Magmamani" ("We, Peanut Vendors").  Click here to enjoy!
Xin Su also produced our virtual Spring 2021 season video.  It combines three songs of empowerment and hope: "A Path to Each Other", "Blackbird", and "The Storm is Passing Over."  Check it out on YouTube!
As a trial run, a number of choir members sang in a similar video in January 2021.  Click on the title to enjoy our performance of Morten Lauridsen's "Sure on This Shining Night"
In December 2019 we sang Handel's Messiah at Carnegie Hall in NYC!
The Clintonville Community choir was invited to join select other choirs from across the country to perform Handel's Messiah on December 1, 2019 at Carnegie Hall!  We performed with a professional orchestra, soloists, and conductor in Messiah….Refreshed! produced by DCINY.  Click here for more information about the concert.  Click here for photos from the concert.
Our Mission
The Mission of the Clintonville Community Choir is:
To enhance the musical environment in Clintonville
To provide an opportunity for musical expression and growth among the members
To provide an opportunity for contact among musicians of varying levels of proficiency
More Information
We welcomed Xin Su as our new Artistic Director and Conductor in February 2020!
The C'Ville Songsters is a small, auditioned, a cappella group of choir members who sing at Choir concerts and represent the Choir year-round, including times when the Choir isn't rehearsing. See About the Songsters for more information.  Note: the Songsters are currently on hiatus due to the pandemic.